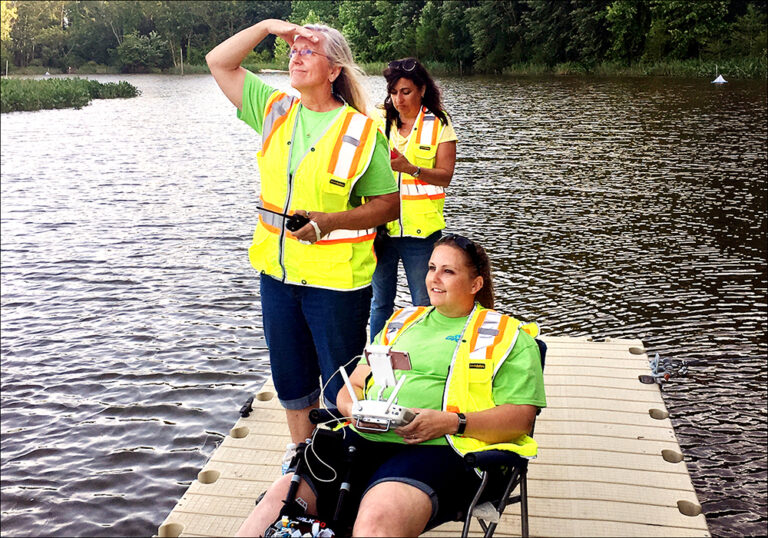 28 May

GeoTEd-UAS 2019 Spring Mini-Institute

The GeoTEd-UAS 2019 Spring Faculty UAS Mini-Institute was held May 21 – 23 at Virginia Commonwealth University's (VCU) Rice Rivers Center in Charles City. Eleven faculty from six different colleges, one high school teacher and six instructors came together for hands-on training in using unmanned aircraft systems (UAS). Virginia colleges represented at the event included Thomas Nelson Community College, Tidewater Community College, Mountain Empire Community College, Virginia Tech, Blue Ridge Community College, Virginia Highlands Community College, Dabney S. Lancaster Community College, Germanna Community College, Southwest Virginia Community College and John Tyler Community College.

The GeoTEd-UAS team and faculty worked with VCU scientists and researchers interested in acquiring aerial imagery and data on the Rice Rivers Center property. A special focus for most of these UAS missions was on a 'reclaimed' tidal wetland associated with several different research projects.

The imagery collection efforts will be used to support VCU research designed to assess the ecological succession (changes in vegetation, etc. over time) in the tidal wetland. Researchers wanted to acquire high quality baseline imagery of the wetland so that they can compare imagery captured in the future.  In addition, they were interested in determining different types of vegetation that currently grows in this area and proof of concept for using UAS to identify the shoreline.

VCU Center staff were also concerned about the status of solar panels located at the research boat dock. Faculty used a thermal sensor (see photograph) mounted onto a quadcopter to determine that at least three solar cells were not functioning properly.

By leveraging a research vessel operated by a Thomas Nelson Community College faculty participant, the cohort also demonstrated a proof of concept using side-scan sonar to detect subaquatic vegetation. Faculty participants planned and operated the missions with guidance and support from the project leadership team.

The GeoTEd-UAS faculty cohort planned and completed more than 20 different missions collecting thousands of images and video from UAS and the side-scan sonar. The faculty processed the imagery using UAS software and generated a number of products including orthomosaic basemaps at both high and low tides, plant health maps, elevation maps, and other products.

The images and a preliminary analysis were presented to the VCU Center Director and staff. All images and products will be delivered to the Center Director for further analysis and to help inform future planning and decisions.

Since GeoTEd-UAS began, nine colleges are now offering UMS courses and 320 students have enrolled in UMS courses. Three Career Studies Certificates and one Associates Degree have been created.