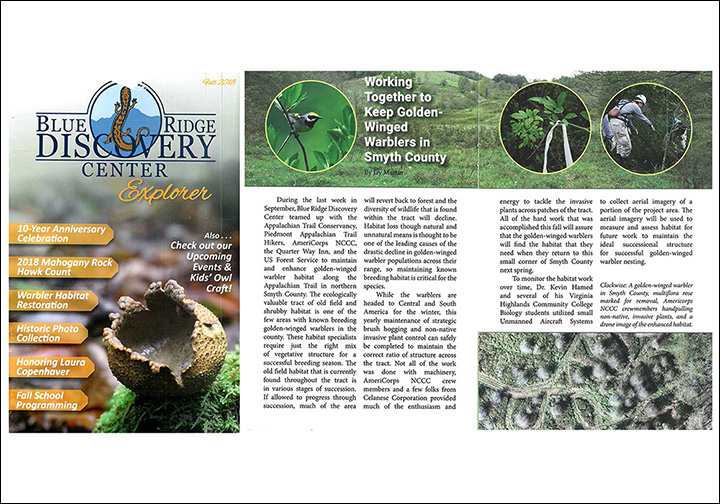 05 Feb

Blue Ridge Discovery Center Explorer Feature

The fall edition of the Blue Ridge Discovery Center Explorer features Dr. Hamed and his Biology students work with Unmanned Aircraft Systems to monitor Golden-Winged Warbler habitat. The full text is below.

During the last week in September, Blue Ridge Discovery Center teamed up with the Appalachian Trail Conservancy, Piedmont Appalachian Trail Hikers, AmeriCorps NCCC, the Quarter Way Inn, and the US Forest Service to maintain and enhance golden-winged warble habitat along the Appalachian Trail in northern Smyth County.

The ecologically valuable tract of old field and shrubby habitat that is currently found throughout the tract is in various stages of succession. If allowed to progress through succession, much of the area will revert back to forest and the diversity of wildlife that is found within the tract will decline.

Habitat loss through natural and unnatural means is thought to be one of the leading causes of the drastic decline in golden-winged warbler populations across their range, so maintaining known breeding habitat is critical for the species.

While the warblers are headed to Central and South America for the winter, this yearly maintenance of strategic brush hogging and non-native invasive plant control can safely be completed to maintain the correct ratio of structure across the tract. Not all of the work was done with machinery, AmeriCorps NCCC crew members and a few folds from Celanese Corporation provided much of the enthusiasm and energy to tackle the invasive plants across patches of the tract.