Winners Selected for the 2021-2022 TRB Airport Cooperative Research Program University Design Competition for Addressing Airport Needs
News Release | July 20, 2022
WASHINGTON — The Transportation Research Board's Airport Cooperative Research Program (ACRP) has selected winners for its annual University Design Competition for Addressing Airport Needs. Now in its 16th year, the prestigious competition encourages students to design innovative and practical solutions to challenges at airports. Four first-place winners were chosen across the four technical challenge areas: Airport Environmental Interactions; Airport Operation and Maintenance; Runway Safety/Runway Incursions/ Runway Excursions Including Aprons, Ramps, and Taxiways; and Airport Management and Planning.
Airport Environmental Interactions Challenge:
A team of undergraduate and graduate students from the College of Aeronautics at Florida Institute of Technology won first place for its proposal titled Implementing Alternative, Renewable Energy Sources for Ground-based Airport Operations. The students proposed a system for converting low-cost degradable waste into usable fuel. The team concentrated on developing an alternate energy source for ground operations that can be implemented in most climatic and geographical conditions. Faculty adviser: Deborah Carstens.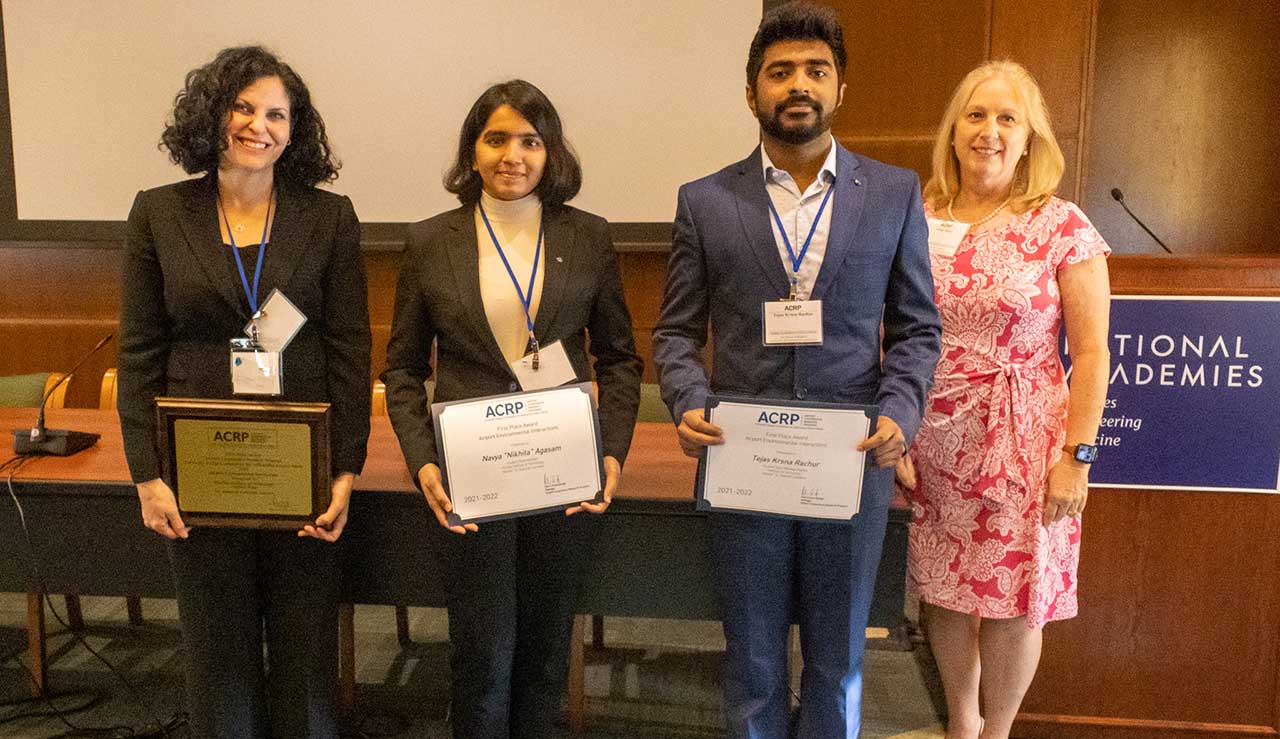 Airport Operation and Maintenance Challenge:
A team of graduate students from the University of South Florida's Civil and Environmental Engineering Department won first place for its proposal titled Design the Allocation of External Alternative Aircraft Taxiing System at Airports. The team submitted a design proposal that modeled and simulated the use of external tugs to replace engine-powered taxiing. The proposal offers the potential for cost savings as well as a reduction of jet fuel consumption and associated emissions. Faculty advisers: Yu Zhang and Joseph Post.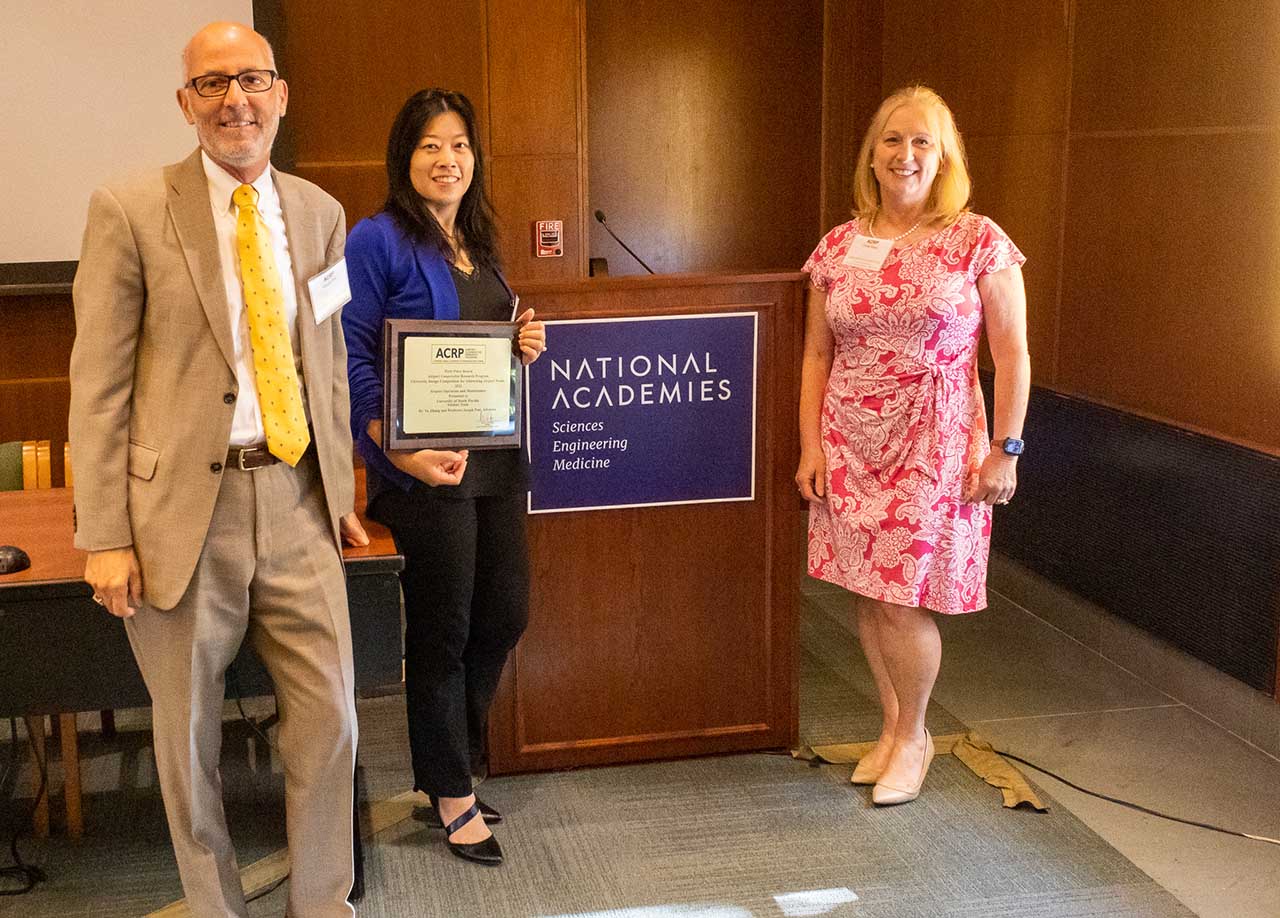 Runway Safety/Runway Incursions/ Runway Excursions Including Aprons, Ramps, and Taxiways:
A team of graduate students from Purdue University's School of Aviation and Transportation Technology captured first place for its proposal titled Simple, Affordable, Flexible, and Expandable Runway Status Lights. The team submitted a design proposal that uses aircraft position information from Automatic Dependent Surveillance-Broadcast transmissions to activate runway status lights. Faculty adviser: John Mott.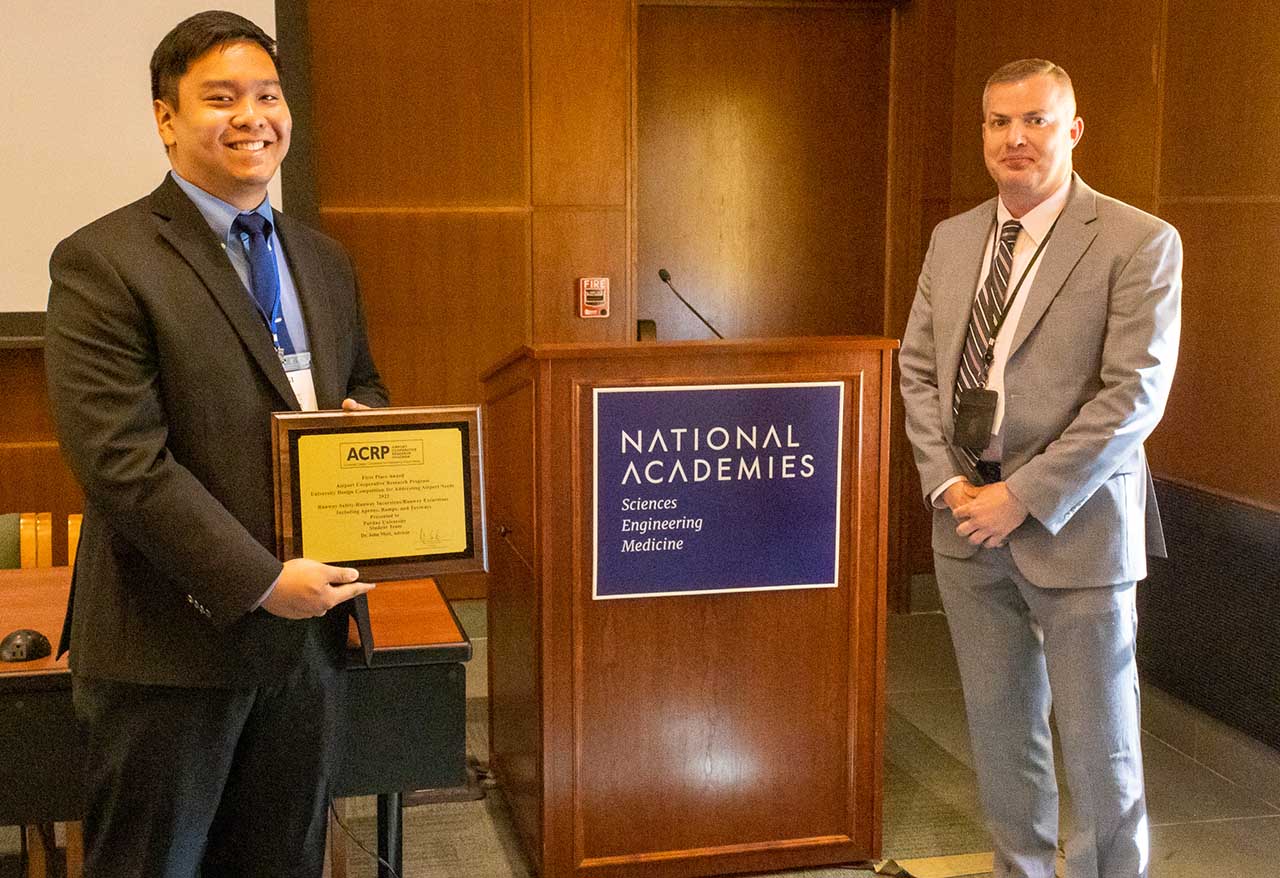 Airport Management and Planning Challenge:
A graduate team from the School of Aviation and Transportation Technology at Purdue University won first place for its proposal titled Airport Unmanned Self-Driving Wheelchair. The design proposal offers an innovative idea to provide an inclusive environment, especially for lesser-accommodated and disadvantaged groups. Faculty adviser: Mary Johnson.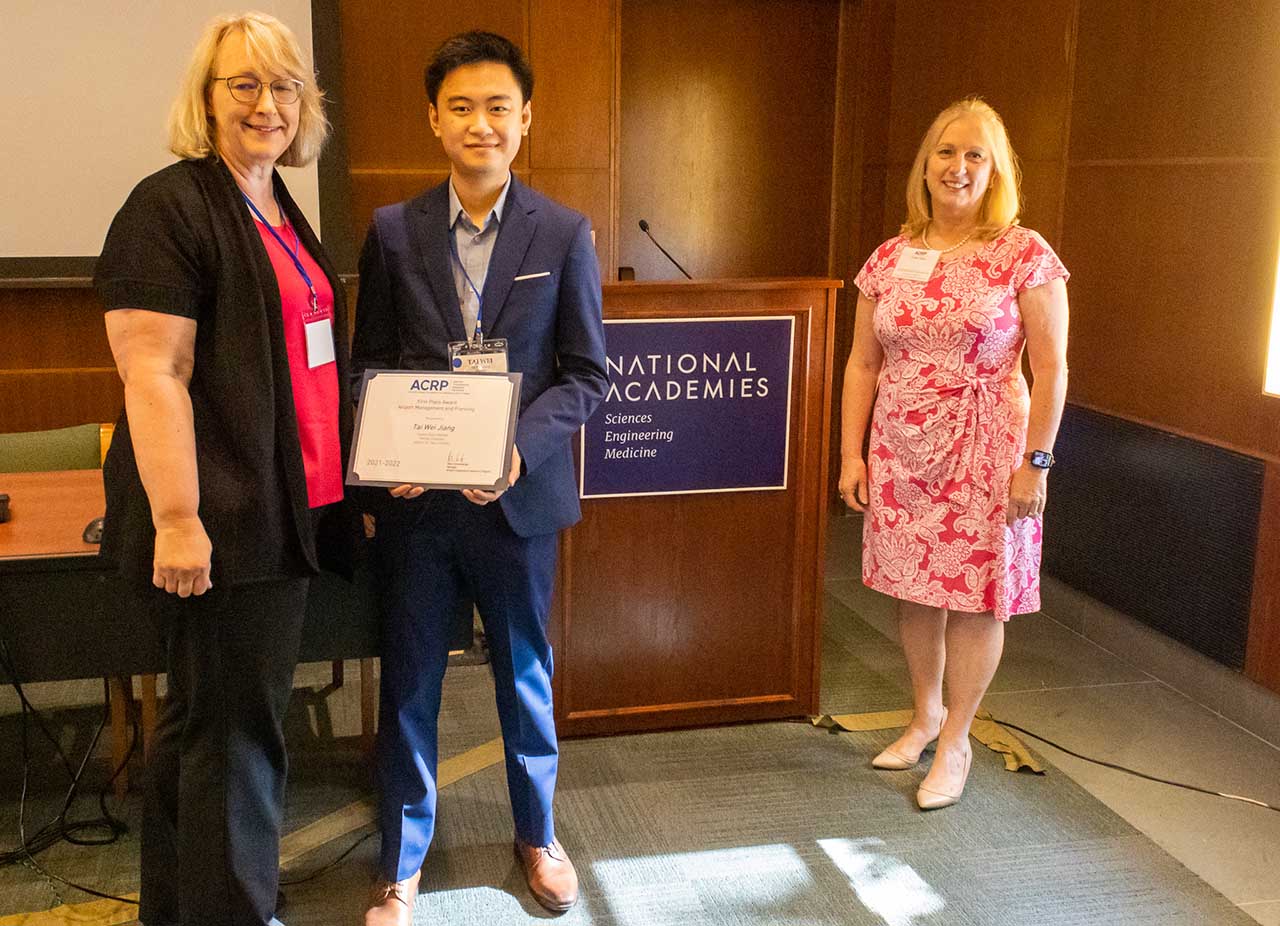 Additionally, teams from Pennsylvania State University, Binghamton University – State University of New York, and Oregon State University won second-place awards, teams from Purdue University, Michigan Technological University, and Pennsylvania State University won a third-place award, and a team from Florida Institute of Technology received an honorable mention.
Students were invited to propose innovations in any of the four technical challenge areas. The competition requires that students work with a faculty adviser and that they reach out to airport operators and industry experts for advice and to assess the practicality of their proposed design solutions. The Virginia Space Grant Consortium of Hampton, Virginia, manages the competition on behalf of the ACRP. Funding for the competition is provided by the Federal Aviation Administration (FAA).
Volunteer panels of airport industry and academic practitioners as well as FAA representatives selected the winning submissions from among the proposals submitted by 21 student teams. First-place winners will receive their awards and present their work at an awards ceremony on July 20. The students will also present their designs at the Airport Consultant Council's Airport Technical Workshop as a keynote luncheon presentation. In addition, they will be given the opportunity to present their winning proposals at an industry professional conference or workshop in fall 2022. Winning teams receive $3,000 for first place, $2,000 for second place, $1,000 for third place, and $500 for honorable mentions.
The names of all winners and copies of designs receiving place awards are available at the https://www.trb.org/ACRP/ACRPDesignCompetition.aspx.
New guidelines for the 2022-2023 academic year competition will be available on the competition website by early August 2022.
The Airport Cooperative Research Program is an industry-driven, applied research program that develops near-term, practical solutions to airport challenges. The program is managed by the Transportation Research Board, which is a program unit of the National Academies of Sciences, Engineering, and Medicine — private, nonprofit institutions that provide independent, objective analysis and advice to the nation to solve complex problems and inform public policy decisions related to science, technology, and medicine. The National Academies operate under an 1863 congressional charter to the National Academy of Sciences, signed by President Lincoln. For more information, visit https://national-academies.org.
Follow us:
Twitter @NASEMTRB
Facebook @NASEMTRB
Contact:
Josh Blatt, Media Associate
Office of News and Public Information
202-334-2138; e-mail news@nas.edu